Profile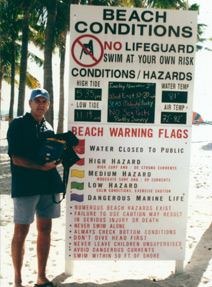 Dr. John R. Fletemeyer has been employed in professional aquatics for over 30 years and has held several key supervisory and management positions at pools and on beaches. In addition, John taught at the university level for 12 years.
Dr. Fletemeyer is a research professor Florida International University's Laboratory for Coastal Research where he conducts aquatic research and directs law symposiums and seminars in the U.S. and abroad. John is the founding director of the Aquatic law and Safety Institute and the co-founder of the International Rip Current Symposium program.
John is the author of two aquatics book including, Drowning New Perspectives in Intervention and Prevention and many peer reviewed research papers appearing in professional journals. John has appeared as an aquatics expert on several TV shows including 60 Minutes.
Contracted by the government, Dr. Fletemeyer has evaluated over 1,000 drowning deaths. He is actively engaged in drowning and drowning prevention research. His most recent published research involves determining how the movie and TV industry influences the public's perceptions about drowning. John has served as a consultant for over 50 government, military and not-for-profit organizations.
Dr. Fletemeyer has been elected by his peers in a number of leadership positions including
Chairman, Vice Chairman and Congress member of the International Swimming Hall of Fame
Co-Chairman and of the National Aquatics Coalition
President of the S.E. Region of the United States Lifesaving Association
National Education chairman for the United States Life Saving Association
Chairman of the International Rip Current symposium program
Dr. Fletemeyer is been honored with several awards from his peers including
| | |
| --- | --- |
| | Top 100 Aquatic Professionals in America" award |
| | NAUI 25 Year Service Award |
| The Robert J. Gunkel Award | "Who's Who in Aquatics" Award |
The Town of Palm Beach Chamber of Commerce 1998 Outstanding Employee award
Dr. Fletemeyer also devotes professional time to teaching & training. He has held consulting positions with the Centers for Disease Control, the America Red Cross, the YMCA of the USA, the Boy Scouts of America, the United States Border Patrol, the United States Marine Corps, the United States Air Force and for the Aborigine Marine Institute of West Australia.
As the director of the Aquatic Law and Safety Institute, John conducts symposiums and seminars certified for CLE credits. He is also the co-founder of the International Rip Current Symposium program and the founding director of the Florida Sea Symposium Program. John is the past Editor and Chief of Ocean Lifeguard Magazine. The next international aquatics symposium will be in South Korea.
Dr. Fletemeyer holds numerous certifications including
| | |
| --- | --- |
| NAUI SCUBA Instructor (2760) | |
| America Red Cross First Responder | |
| Emergency Medical Technician | WSI—Water Safety Instructor |
| World Lifesaving Instructor | USLA Certification Officer (past) |
| Under Water Search & Recovery Tech | Swift Water Rescue Specialist |